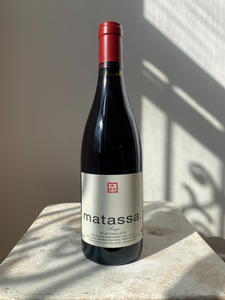 Angels ate Lemons
Matassa 'Rouge' VDF 2019
Regular price
$60.00
$0.00
Unit price
per
Producer: Matassa

Country: France

Region: Languedoc-Roussillon

Varietal: Carignan, Grenache Gris, 10% white field blend

Vintage: 2019

Size: 750ml

Color: Red

Notes: Whole cluster, 4 day maceration in fiberglass, pressed and racked to ferment and age in demi-muid.
In 2001 New Zealanders Sam Harrop and Tom Lubbe purchased a small vineyard high up in the hills of the Coteaux du Fenouillèdes, in the Roussillon region of France, called Clos Matassa. The vineyard was a hillside plot planted with old-vine Carignan, and because of the altitude, 450 metres, the growing season is around a month longer than the lower vineyards in this warm region. Soils are granitic.

Lubbe has experience of making wine in both France and South Africa: I've reviewed his fascinating Observatory Syrah from the Swartland region of South Africa elsewhere on this site, and from 1999–2002 he made wine at Domaine Gauby, a celebrated estate that's led the way in this part of the Roussillon. Harrop is a consultant winemaker and MW who previously worked for six years as winemaker and buyer with the wine department at UK retailer Marks and Spencer.

Vineyard management here employs biodynamics, and the winemaking here is aiming to be as natural as possible. The only addition is a bit of sulfur dioxide, and handling is gentle. Elevage is in a mix of 500 litre demi-muids and 228 litre pieces, of which only a third are new. Production of 2002, the first vintage, was just 1800 bottles.

Production increased for 2003 with the purchase of 12 further vineyard plots, and from 2003 the reds have been blends of Grenache, Mourvèdre and Carignan. They are all old vine vineyards, with half high up in the Coteaux des Fenouillèdes and the other half around the village of Calce, lower down (at around 150 m). Lubbe and Harrop say that the lower vineyards contribute power and the higher ones minerality and finesse.


---