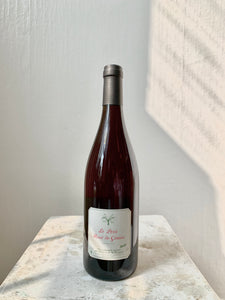 Angels ate Lemons
Le Petit Domaine de Gimios 'Le Petit Rosé de Gimios' 2021
Regular price
$54.00
$0.00
Unit price
per
Producer: Le Petit Domaine de Gimios
Country: France
Region: Languedoc
Varietal: Muscat blanc, terret rose, terret noir, terret blanc, carignan, grenache, syrah, muscat, cinsault, aramon and alicante
Vintage: 2021

Size: 750ml
Color: Pink
Notes:
Organic/Biodynamic/Equivalent
All of our wine selections are fermented spontaneously.
Other Information:  Anne-Marie and Pierre Lavaysse live and make wine around the small village of Saint-Jean-de-Minervois. Here in the French south, at high altitude and with calcareous soils, Anne-Marie has been making wine for twenty-five years. Ever since the 1970s, she has grown her own vegetables and had cows that have given milk for butter, yoghurt and cheese. She says that since she was very young she has wanted to become a farmer and live in symbiosis with nature.

The step to start making wine was easy for her. In 1999, she bottled her first wine. She mainly grows muscat but also has two vineyards planted with a variety of red grape varieties, including terret noir, cinsault, alicante, grenache, carignan, aramon and mourvedre. Since the mid-2000s, her son Pierre has been involved in taking care of the work in the vineyard.

The work in the vineyard is done according to biodynamic principles. The only preparations used in the vineyards to protect the vines against diseases are decoctions of herbs that grow around the plantations and a tea made from grapefruit seeds (!). They also benefit from their cows, the cows are released to pasture and clean up in the vineyards during the winter months while taking the opportunity to release some manure.

In the cellar, Anne-Marie and Pierre trust their fruit and have not used any sulfur since 2002 - neither during the wine's growth nor before bottling. The wines are extremely clean and elegant with lots of acidity and lovely floral tones. This 2019 is 85% white wine of muscat blanc + 15% 'Rouge de Causse', with direct pressing of muscat and fifteen days maceration of red; spontaneous fermentation in tank; assembly and eight months development in stainless steel tank; no clarification or filtration.
---